Athletes surpass Everesting goal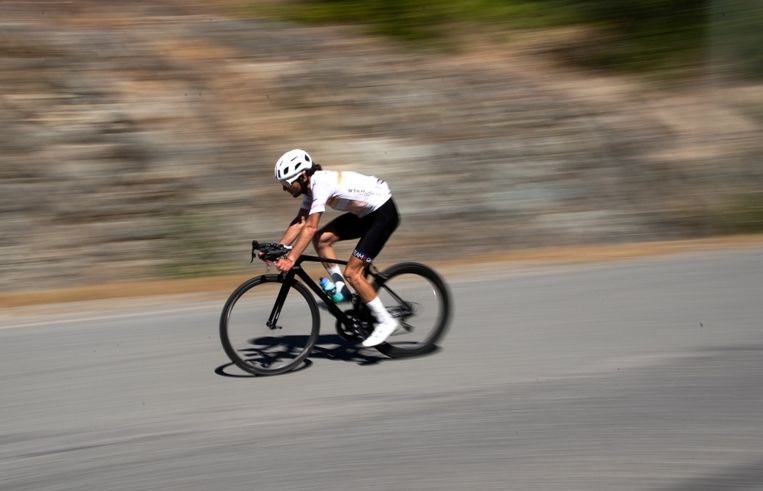 Just under two weeks ago Alex Amiri and Caleb Bender successfully completed their Everesting for MS. Alex reflects back on the day and how the idea originated.
A few weeks ago I reached out to a friend of mine, Caleb Bender and pitched the idea of Everesting instead of just doing the Virtual MS Bike. He was all over the idea and luckily, Caleb has a ton of experience with MS Bike. We were also fortunate that our coach Houshang Amiri has an endless amount of experience in training athletes to perform and recover at their best.
First off Caleb and I set up a donation page through MS Bike deciding on a team goal of $2,000, ($1,000 each). At the time of writing this we upped the team goal to $4,000, $2,000 each and we are happy to say we have PASSED this goal. The feedback has been incredibly humbling. The involvement of the local and the cycling community was the real motivator when things got tough during the ride.
So to the ride. We planned on a time just over two weeks from our decision date, which landed us on August 1. Neither of us really knew just how hard it would be, or just how important it was to pace our effort. Two weeks before our August 1. effort we agreed it would be smart to see what kind of pace we could maintain.
First, we talked to Houshang, and he told us what sort of pace would be realistic. We both did 10-15 efforts, once a week for two weeks. We hit the climb on the first week and we felt the pace was manageable. We agreed to do this again the second week. But this time we had a bit more riding in the legs. The pace still felt fine by the 11th effort. Once we got off the climb that time we started thinking about nutrition as that was going to be even more important on an effort like this, compared to the Zone 2 riding we had been doing.
After a nice slow ride to get to Goldstream Heights, south of the Cowichan Valley, where we were going to do the climb, we were ready to start at 7:30 am. We set our own respective performance goal of what sort of time we want to finish in. I was aiming for 8:30. Starting out, we were a bit ahead of pace so we quickly adjusted and carried on. For the first five hours I was feeling comfortable with the pace I was holding, and the speed I was targeting on the climb. As the fifth hour carried on the wind started, first it was a cross-headwind, then by the sixth hour it was a headwind, and it only got worse. While the pace waivered it became more and more difficult.
Thankfully around this time is when people started to show up in support. We had friends on the side of the road, and fellow cyclists riding up with us. This helped the morale. Around this time my mind was blank, and the effort along with the 31 degree heat and the headwind took its toll. The pace dropped but this was okay because until this point I had been ahead of schedule. After 45 minutes, I slowly rebuilt the pace back to what was comfortable. For the last hour of the ride, I was doing okay mentally. The legs hit a point where I couldn't go much slower, but I couldn't go any harder either. You start to think about everyone who supported you along the way, and each person you think of makes you feel a little bit stronger. This is what really drove the final hour home for me (the two cokes I had during this hour might have helped to). I ended with a time of 8:40, completing the first section of Goldstream Heights Drive 73 times.
It has been 12 days since the effort now and its given me time to collect my thoughts and get the body properly recovered. That effort sucked but now it's probably one of the things I'm personally most proud of. Beside the effort, the fundraiser went incredibly well. Our donation pages are both still active, I urge you to check it out and read the donor list, as all those who supported us there are listed and deserve recognition beyond what I can provide.
https://pacificcyclingcentre.ca/wp-content/uploads/2020/08/Alex-Amiri_feature.jpg
491
763
Louise Hodgson-Jones
https://pacificcyclingcentre.ca/wp-content/uploads/2019/12/logo-color-300x62.png
Louise Hodgson-Jones
2020-08-12 11:11:26
2020-08-12 11:19:14
Athletes surpass Everesting goal