Polka Dot Jersey For Alex Amiri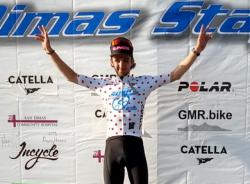 Last weekend was a busy one for PCC riders in California with Alex Amiri competing in the San Dimas Stage Race and Amiel Flett-Brown and Ryan Olson racing at the Chico Stage Race. Alex successfully took the KOM polka dot jersey at San Dimas.
It was the first time that Alex had competed in the iconic San Dimas Stage Race. The three-day race consists of a 6.8 km time trial, a 146 km road race and an 80-minute criterium. Stage two's road race was Amiri's focus with a goal of taking the KOM jersey. "I had been asking other riders who had done the race before how the race would typically play out, and all of them told me it would be a race of attrition, with the rider count slowly declining over the course of the race," he recalls. "That is not how it played out. in the first five minutes of the race people were furiously attacking the group, trying to make a move get away. Even the riders in the general classification were attacking each other."
Alex knew he had to make his mark so within seven minutes of the start he initiated a breakaway with Ulises Castillo Soto, of Elevate KHS, and Cory Williams, from the Legion of LA. "The three of us worked well together, at one point opening a gap of three minutes on the peloton. We knew that once we had this gap, with less than a quarter of the race to go, that it was going to be the breakaway of the day."
During the stage there were four KOM sprints, on laps 2,4,6, and 8. "With both Ulises, and Cory targeting the sprint points, I felt pretty good about leading our trio across the KOM, gaining maximum points on all but one sprint," said Amiri.  With 25km to go Castillo Soto surged forward to take the stage win.
Alex had the criterium the following day to secure the polka dot jersey. With Hewdog team mate Chris Ernst they rode a strong race breaking away with four laps to go. "With 80 meters remaining we were caught, but we managed to stay safe, finish the stage, and secure the KOM jersey for good."
Alex attributes his success to training in Tucson and the support of his team and coach. "I am so humbled by the outreach of my local cycling community back in Vancouver, as well as the hospitality of those around me in Tucson, not to mention the unconditional support I receive from my dad and coach, Houshang Amiri."
Chico Stage Race is Northern California's premier stage race. The event consists of the Thunder Hill Circuit Race, Paskenta Hills Road Race, River Road Time Trial, and Downtown Criterium in Chico, CA. Both Amiel and Ryan had a strong race but had some challenging issues with other riders causing some minor incidences.
Amiel was able to attain some Green Jersey points in the Thunderhill Circuit Race. "On lap six, I was third in the sprint and safely on the wheels; lap 12, third again with minimal energy expended. After having a good understanding of the finish line and the final 90-degree corner with 200m to go, I decided to sit out lap 18 sprint and conserve for the final sprint where there would be bonus Green Jersey points and the win would be up for grabs," he said. However, another rider collided with Amiel forcing him off course. He was able to get back in the race and finished mid-pack.
Amiel had another unfortunate incident in the road race when a rider steered into his front wheel causing him to stop and having to find help to adjust his handlebar. The third stage – the time trial – Amiel finished 25th leaving the final criterium for him to rack up more Green Jersey points.
"My early stint in stage 1 for Green Jersey points still had me in the top ten with a fighting chance, despite bad luck the day before. I knew there was only one way I would feel good about ending this weekend of racing – and that would require doing everything I could to break-away, go for jersey points and sprint with anything I had left over."
Attaining points on laps 10, 20 and 25 Amiel rode hard staying with the lead bikes for most of the race. On tired legs and with two laps remaining he was sitting on the fourth and fifth wheel. "I stepped on the gas but made no headway. I knew then that I would be doing my best to hold my position till the final 100m. I finished sixth, but happy to have made it through all of that in one piece."
"Both Amiel and Ryan showed they are able to race against the bigger teams. Looking at their race power tap data, it shows a good improvement in their fitness and form," said Coach Amiri.
https://pacificcyclingcentre.ca/wp-content/uploads/2019/12/img1.L-7.jpg
184
250
Louise Hodgson-Jones
https://pacificcyclingcentre.ca/wp-content/uploads/2019/12/logo-color-300x62.png
Louise Hodgson-Jones
2019-04-04 09:01:59
2019-12-30 14:22:26
Polka Dot Jersey For Alex Amiri