Successful Everest Climb for MS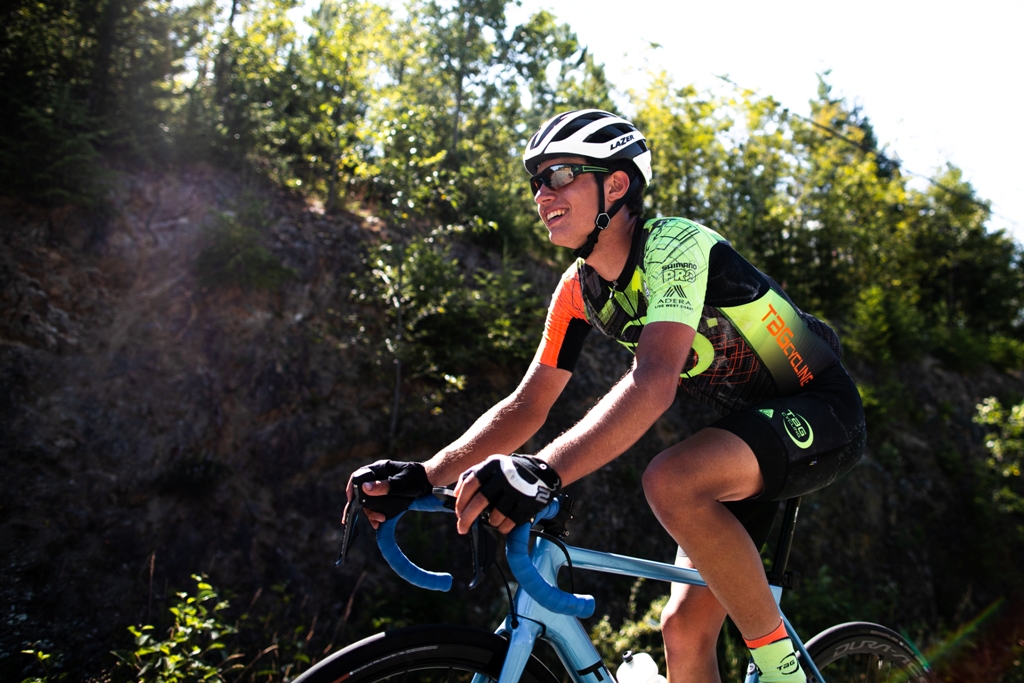 PCC Athletes Caleb Bender and Alex Amiri successfully everested for MS on Saturday – raising much needed funds for the MS Society of Canada. Choosing the gruelling hill of Goldstream Heights, south of the Cowichan Valley on Vancouver Island here is Caleb's account of the training and the day. 
Wow, what a crazy couple of weeks it's been. From when Alex and I decided to Everest for the MS Society of Canada to now, three weeks later having raised a combined $3,800 (and counting) the community support for the cause and the effort has been absolutely insane. I'd like to start by thanking everyone who read about our connections with MS, to everyone who donated, and to everyone who came out and supported us on the day. I feel so lucky to be a part of such a close-knit cycling community, and your support of the MS Society of Canada the past few weeks has been beyond belief.
When Alex and I decided we would Everest for the MS Society of Canada, we were hoping to raise a bit of money and to raise some awareness to a cause close to both of us. This year, MS Bike had to cancel all of their in-person bike tours in exchange for the "Virtual MS Bike." The idea was for riders to challenge themselves on the bike as a means of fundraising over the summer months in leu of an in-person event. An Everesting qualified as a challenge, so when Alex pitched the idea, I was 100% on board.
This was my 10th year fundraising for the MS Society and participating in MS Bike, and I'm happy to report that despite funds being raised entirely online (rather than my usual door to door approach in my small home town) this was shockingly also one of my most successful years of fundraising, having to up my standard fundraising goal of $1,000 after just over one week. The support from friends, family, and fellow cyclists far exceeded expectations, and for that I am extremely thankful. The donations and awareness make all the difference for those in my family and my hometown who live with MS, and so the support means the world to me.
After two weeks of adapted training and pacing work thanks to coach Houshang Amiri and Pacific Cycling Centre, Alex and I were ready to take on the Everest Challenge last Saturday. Knowing full well from the experiences of those who had done an Everesting before I knew the challenge was going to be a big one, but I don't think I fully realized the challenge until that morning. The 70+ efforts up our chosen climb on Goldstream Heights was bound to be a challenge, but the repetitive nature of the effort really did take its toll. Thankfully, we had Houshang at the top of the climb giving bottles, food, ice, and words of encouragement throughout.
The support on the day was incredible, with friends and fellow cyclists joining us for the climb and cheering from the roadside. The cheers and the faces were amazing, and at times were the only thing to keep me sane (sort of) through every rep.
Albeit by far the hardest day I've had on the bike, I kept motivated knowing what we were working so hard to do. At the end of the day we'd end up sore and exhausted for a few days and then be right back up and training as usual. However, we both knew that climbing a hill all day doesn't compare to the daily challenges those living with MS deal with every day. There are no rest days from MS, and so as hard as the effort was, stopping was not an option. Rep after rep I encouraged myself with the strength and courage I've seen from those in my family and community facing MS. And rep after rep I was reminded of an old joke between Dad and I at my first MS Bike Tour 10 years ago; "just one more climb". Year after year Dad and I would ride the MS Bike at Riding Mountain National Park (which was surprisingly hilly for the prairies) and would repeat this joke after every hill knowing full well there were more on the horizon. The joke was oddly fitting considering the effort, and brought back good memories from the 10 years at MS Bike and the stories that kept me motivated during those early years when a 75 km day on the bike was just as much of a challenge as an Everesting.
The experience on Saturday was incredible, and largely made possible thanks to the help of Pacific Cycling Centre and the support from the entire cycling community. Without this support the funds raised and the ride itself wouldn't be possible, so I want to thank everyone who made the day great and our fundraising a huge success. This experience sure won't be one that I will soon forget.
You can still donate to the Everest team by going to:
https://pacificcyclingcentre.ca/wp-content/uploads/2020/08/Caleb_feature_Jay-Wallace.jpg
683
1024
Louise Hodgson-Jones
https://pacificcyclingcentre.ca/wp-content/uploads/2019/12/logo-color-300x62.png
Louise Hodgson-Jones
2020-08-05 14:38:50
2020-08-12 14:42:10
Successful Everest Climb for MS