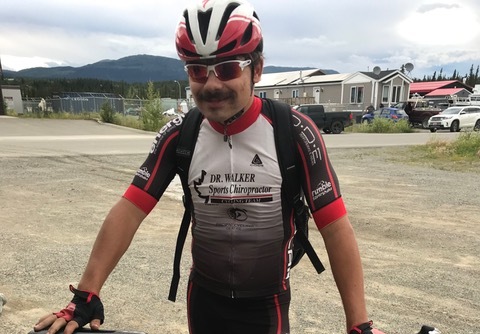 David Jackson took the time this summer to rack up the miles and explore Vancouver Island. Now back in his native Whitehorse he competed in the 2020 Yukon Energy Cycling Championships where he podiumed. Congratulations David. 
I moved to Victoria two years ago from Whitehorse and thanks to PCC and the biking community I had the opportunity to train year-round. Victoria has provided me with a once in a lifetime experience where I can always get on my bike and ride, walk to the beach and listen to the calming waves.
During January and February I was training hard, attending the PCC training camps and daily weekend group rides as well as fitness training at the gym, my favourite being the Crystal Pool Fitness Centre. When March came I was looking forward to going to my first spring series race in Langley but due to COVID-19 it was canceled. This was soon followed by the cancellation of most of the other events that were planned on my schedule for this year. My coach, Houshang Amiri changed my training back to a winter training schedule for a little while until the weather got warmer.
The onset of summer saw me shift to more building endurance with long rides which meant exploring more of Vancouver Island, finding new roads to train on, some of them being Salt Spring Island, Duncan, Port Renfrew and Cowichan Lake. With all the beauty Victoria and Vancouver Island has to offer it seemed only fitting to challenge myself to a 271 km and 181 km ride. Over this period I was able to develop different training skills and techniques knowing I was getting stronger on the bike. This is something that I probably would never have achieved if there was a race season.
I am so lucky to have the time and opportunity to ride in this piece of paradise. The scenes that I have seen are unforgettable with me putting in over 600 km on some weeks and lots of hours on the bike and feeling absolutely amazing. There is nothing more relaxing than being outside in the fresh air taking on new adventures. In July I was feeling prepared for the first races of the season knowing that all my effort and hard work payed off. I am super happy with my achievements and improvements knowing I am much stronger this year than last.
As I write I am home with my family in Whitehorse after eight months to do training in a different environment, where the winds blow strong and the roads curve and bend weaving past canyons and ski hills, mountains and crystal-clear lakes. This can only add to my strength and endurance training as I reconnect with my family for the first time in months.  As Houshang, who has endless knowledge with amazing training skills, always says: "There is always room for improvement."
This pandemic has been challenging but the skills I have learnt as a cyclist have helped me to endure, and as my favourite cyclist Peter Sagan says: " I started with big dreams, big dreams that turn into challenges, challenges that shift to goals, goals become reality. Keep riding, keep challenging yourself and keep learning. Biking is the life and life is good."
https://pacificcyclingcentre.ca/wp-content/uploads/2020/08/Jackson_feature.jpeg
334
480
Louise Hodgson-Jones
https://pacificcyclingcentre.ca/wp-content/uploads/2019/12/logo-color-300x62.png
Louise Hodgson-Jones
2020-08-11 11:13:04
2020-08-11 11:13:04
Training during a Pandemic - David Jackson