Bronze For Zoe Saccio At US Track Champs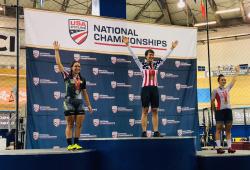 PCC coached athlete Zoe Saccio competed in the 2019 USA Track Nationals last week in California and won a bronze medal in the individual pursuit. This was a remarkable result for the Vancouver-based young American as she has only been racing for two years. "I had no expectations of myself to do anything other than learn," she said.
The three-day event started with a 10k scratch race then the Omnium on day two. "With the help of Coach Houshang I made the decision to be an instigator [in the Omnium scratch race] rather than just following moves. I attacked to keep the pace high, but by the time the sprint came, we were going so fast that I was unable to give it the finishing kick I needed to place."
The tempo race followed, and points were hard to come by and although Zoe rode well in the elimination race, it didn't go as planned. "Houshang told me that my strategy in the points race would be to lap the field. After a full day of hard, fast racing, I was not sure I was going to be able to do it, but I had nothing really to lose and everything to gain."
Zoe waited for the right moment, separated from the pack and picked up two sprints on her way to lapping the field. "Once I got there, the job was to stay in and finish the race. At the end of the race, one rider was off the front and would win the final sprint, but the pack slowed so I took the opportunity to jump with 400m to go and was second in the final sprint for a second-place finish." This resulted in an eight-place finish in the omnium at her first Nationals.
The final race was the individual pursuit. "I had never done a pursuit in my life but figured I would sign up because you have to start somewhere!" She rode well in the heat and then had to wait to see if she had made the finals. "I ended up qualifying third, which meant I had to come back and race for a bronze medal."
She decided to aim for faster splits riding almost seven seconds faster than the morning with a time very comparable to the gold medal rider. "The best feeling in the world has to be when you get to the point in a pursuit that you can see the other rider in front of you but still have more in the tank, that and hearing the announcer compliment your cadence over the loud speaker! When I finished, I was so exhausted and happy that I cried, then I sat on the rollers drinking chocolate milk and wishing everyday was pursuit day."
https://pacificcyclingcentre.ca/wp-content/uploads/2019/12/img1.L-16.jpg
170
250
Louise Hodgson-Jones
https://pacificcyclingcentre.ca/wp-content/uploads/2019/12/logo-color-300x62.png
Louise Hodgson-Jones
2019-07-09 09:08:31
2019-12-30 14:22:25
Bronze For Zoe Saccio At US Track Champs