GC Stage Win For Holly Simonson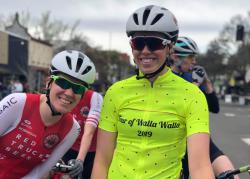 PCC athletes excelled at the Tour of Walla Walla last weekend in Washington. Holly Simonson and Brenna Pauly rode the four-stage race for Team Red Truck and Holly recorded a win on the second stage.
The weekend started with the Wilson Hollow Time Trial – a 11km out and back route. Holly had a strong ride and going into stage two was fifth overall. Stage two was the Waitsburg Road Race. "Things got super exciting as the team began to bring the heat early on," Holly recalls. "We started launching attacks, taking turns and forcing the pack to chase us down repeatedly. Eventually a few started sticking, notably we had Brenna get away and she had a solo break for around 15kms of the first lap."
With her TRT teammates support Holly continued to push and attack. "My breakaway partner was lower in GC than I was going into the stage, so I knew that by working with her and taking it to the line, we would both move up, but I wouldn't be in jeopardy of her beating me in the overall unless something unexpected happened." At the final climb Holly gave it her all. "I gave my last ounce of energy to get out of the saddle and took the lead in the final 200m, taking the win for TRT. I found out that I had moved into first in the GC! The whole team was really excited to have shaken up the overall standings after working so hard and executing a plan perfectly."
Stage three was the 60-minute criterium and with a small field Holly and her team were very optimistic. "We raced aggressively starting about 20mins into the race, hoping to set up a break with one of us either solo or with someone a bit lower on GC. That ended up not being in the cards, and the bunch was still together going into the last couple laps." Holly ended up third on the stage.
Sunday, and the final stage, came and went with more than a little excitement, Holly recalls. "We went into the day with hopes to hold the GC lead, and also to take another stage win. Neither of these ended up happening, but not for lack of a fight! the whole team gave it their all in the super windy and tough 100km race."
Holly, Brenna and the other strong racers, rotated for lead for the entire race with Holly coming third on the stage with her team moving into second and third overall to finish off the weekend.
"Part of bike racing is dealing with unexpected scenarios and doing everything in the team's power to come out with the wanted results," Holly said. "We certainly did that on the day and came up just a little bit short of the win but smiling all the same. The experience of holding a jersey at a stage race for my first time was super fun, and I was so lucky to be there with a team who put everything out on the road to defend it. A big thanks to my coach, Houshang Amiri, whose advice and expertise keep me in check and who always supports me racing with my heart and with an open mind, gaining experience and strength in any way I can."
https://pacificcyclingcentre.ca/wp-content/uploads/2019/12/img1.L-8.jpg
179
250
Louise Hodgson-Jones
https://pacificcyclingcentre.ca/wp-content/uploads/2019/12/logo-color-300x62.png
Louise Hodgson-Jones
2019-04-21 09:02:18
2019-12-30 14:22:26
GC Stage Win For Holly Simonson