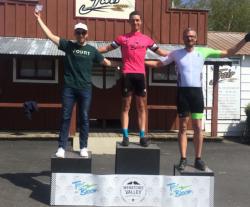 Eight PCC athletes competed in the Tour de Bloom Stage Race last weekend, which resulted in a GC win for Caleb Bender, his first Tour win, and a third place for Holly Simonson in the final road race.
The race was a three-day cycling event from May 3-5, held under perfect weather in the Wenatchee Valley, WA. Stage 1 was a road race in Plain on Friday; stage 2 was a Merckx-style time trial on Saturday morning, and stage three a twilight criterium in downtown Wenatchee on Saturday afternoon. The final stage 4 road race was among the rolling wheat fields near Waterville in adjacent Douglas County on Sunday.
"Tour de Bloom was a great experience and I had so much fun competing in the race, with every course being really challenging," Caleb said about the weekend's racing, who races for TaG Cycling.
Competing in Category 3, he started off strong in Friday's road race finishing fourth. "I had a really great start to the race. I followed a couple moves early on, but nothing stuck, and the race came down to the final climb," he said. "I was happily surprised to find that I was positioned well at the base of the climb, and the legs felt good enough to stick with the three leaders up the climb until the final sprint to take fourth."
He rode well on both the time trial and the criterium on the Saturday to maintain his GC position, but it was the final road race that was the highlight. Feeling comfortable on the course, he said it resembled the rolling hills of his native province, Saskatchewan. He had a tactic in mind: "I knew I wanted to get in a break on the day, and set out wanting to make up some time, being a few seconds off the GC podium." He made an early break with three other riders, quickly creating a large gap. "We worked well together and managed to keep on pushing for the rest of the race growing the gap even more on the last lap. The breakaway stuck until the line, and I managed second in the final sprint! We also got a large enough gap on the pack for me to take my first GC win!"
"Overall I am really happy with how the weekend went. Huge thanks to Houshang and Pacific Cycling Centre for all of the coaching, support, and guidance. It means so much to have such a great and supportive coach, and I am happy with how much I have improved as a rider because of it!"
That same weekend Alex Amiri raced in the 2019 Tour of Gila in Silver City New Mexico with his host team "Team California".
"These were the final races of our pre-competition phase and I am happy where each of those athletes are at this time of the year with their form and development," said head coach Houshang Amiri.
https://pacificcyclingcentre.ca/wp-content/uploads/2019/12/img1.L-10.jpg
207
250
Louise Hodgson-Jones
https://pacificcyclingcentre.ca/wp-content/uploads/2019/12/logo-color-300x62.png
Louise Hodgson-Jones
2019-05-09 09:04:26
2019-12-30 14:22:26
GC Win For Caleb Bender