January Camp Report by Holly Simonson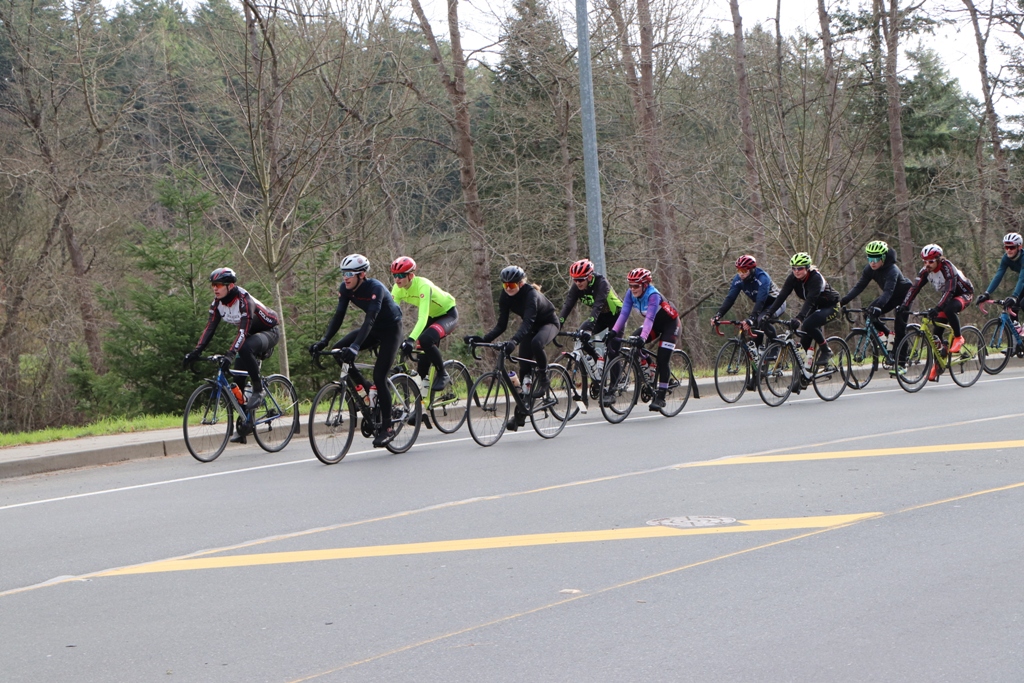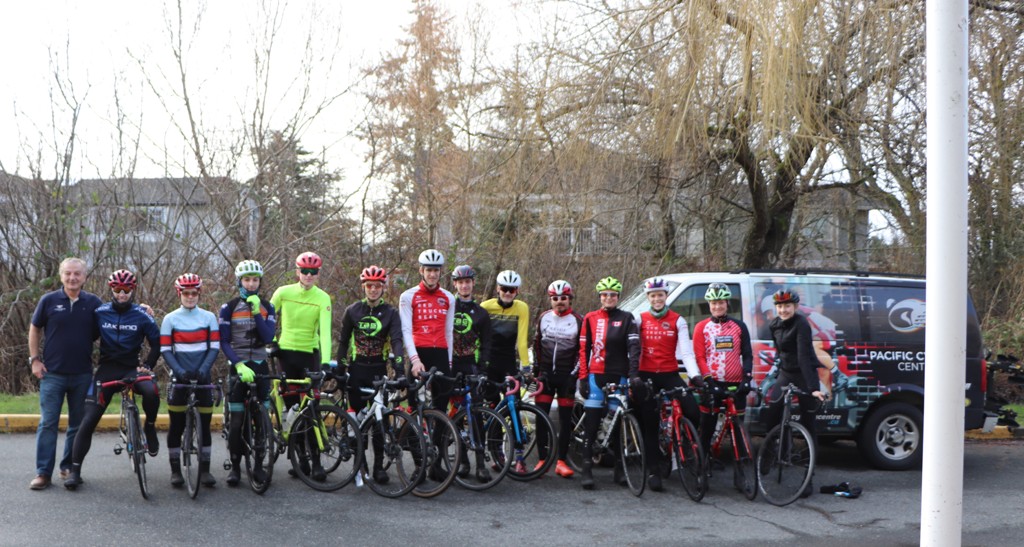 PCC's first camp of 2020 took place last week with 13 riders participating over the four days. Here is Holly Simonson's report on the camp.
Last week  I was lucky to be a participant in one of the renowned winter endurance training camps put on by the Pacific Cycling Centre, in my hometown of Victoria, BC. Over the past four years that I have had Houshang Amiri as my cycling coach, I have ridden several of these camps each off-season, and every time the outcomes of the four-day training camp – not to mention the riders themselves – seem to be more impressive. This makes sense, as Housh (he approves this nickname, ask just about anyone in that Canadian cycling scene!) is a coach who knows how to build his athletes into champions over the long term, while continuing to let them each know that they are capable of reaching the next level and the goals they are striving for. In one of our pre-ride meetings, Houshang reminded us all of this surety he has in every athlete's potential.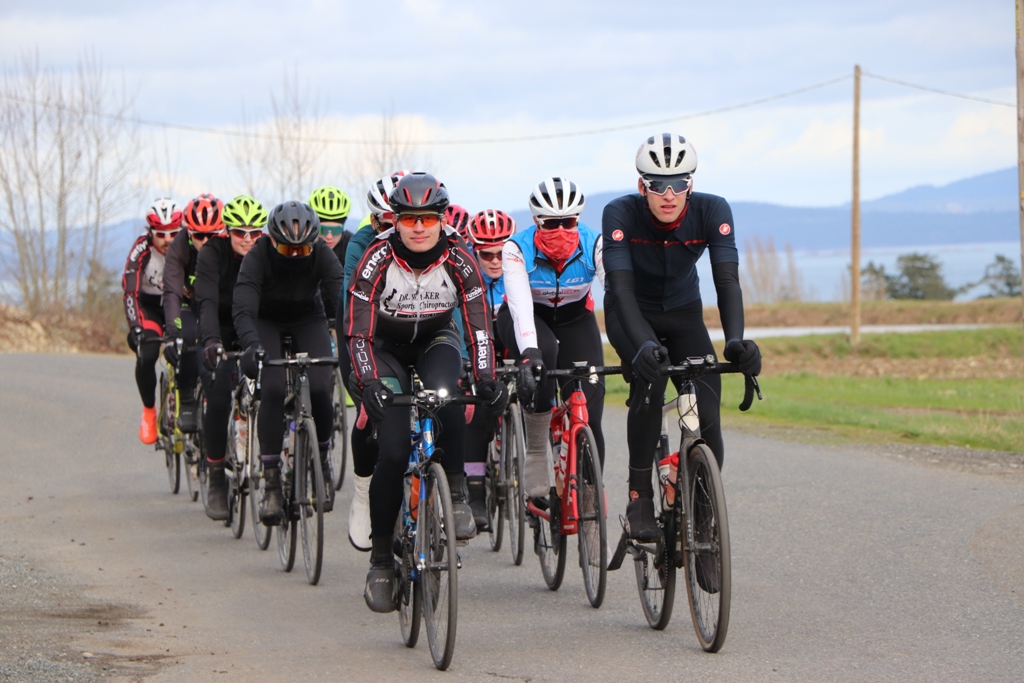 Thursday (Jan 30) was day one of the camp and traditionally this is testing day. Due to road work along Lands End Road we ended up leaving the longer time trial testing until the weekend, but we still endured the shorter test which is a hill climb TT up Willis Point Road. Everyone went off at 30 second intervals, and using one another as motivation (TT's are always better when you have someone to chase!) we all gave our best effort to the top, where Houshang was waiting with stopwatch in hand. Personally I had a surprisingly good one, beating my best time and also getting one of my better 10 min power numbers. This made me a little worried for the next three days of hard rides, thinking I may have dug a bit deep on day one! Having this benchmark is important for Houshang and for our personal data, so that we both know how things are progressing throughout the off season and also year to year. The rest of the ride was steady endurance, with a slightly harder effort up Dean Park climb in North Saanich. At the end of the day the ride had already surpassed my longest distance this winter, but with the amount of fun had and how my legs were feeling so far, I was itching for more and knew this camp was going to be a solid one.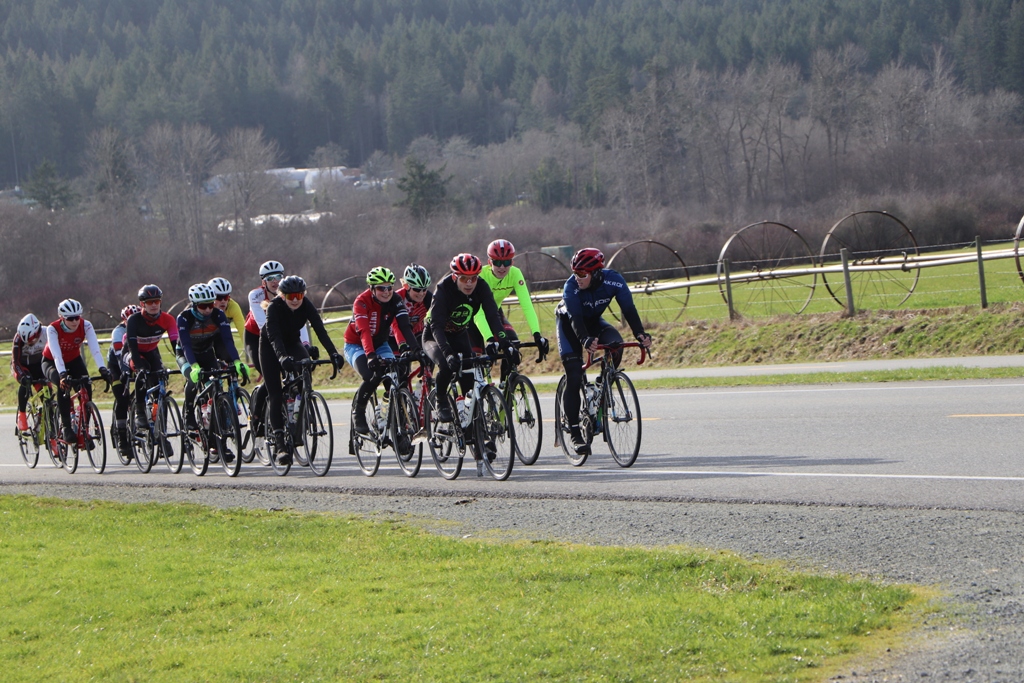 The next morning, Friday, was the wettest one of the camp. Despite some very soggy conditions, everyone showed up at the office for our usual pre-ride meeting ready to conquer the weather and another big day of training. This ride started out as many of our weekly PCC group rides do with a pilgrimage to the Observatory for some hill repeats. While most riders used these as zone 3 efforts with both seated and standing work, I took this chance to do some 20 second max effort sprints, which is a piece of power data Houshang was missing and which most others had done the previous weekend (I did not have a power meter on that day). After four of these high intensity efforts, I made sure to fuel myself up again so that I could continue riding endurance pace for many hours to come. By this point, the weather was improving, and so the ride plan changed from a slightly shorter day to another long one, where we did a loop of Lands End and then finished with waterfront. The group having shed a few people on the way, by the time we hit the waterfront it was all the women and Chris MacLeod. Since none of us could viably sit beside him while he kept a pace that benefitted him, we formed a train behind him (the ChrisTrain™), and this led to my day ending with my fastest waterfront time to date.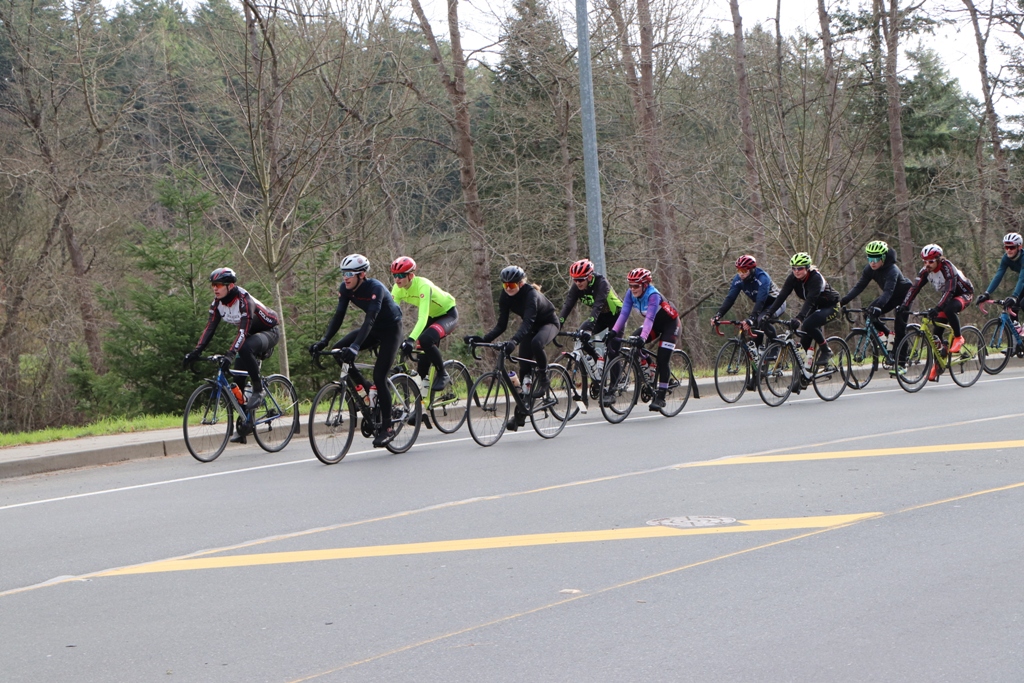 Friday evening many of us gathered once again at the office at Commonwealth Place, this time with no bikes or spandex, but with our minds ready to be expanded by Houshang's camp seminar. The topics of the evening included goal setting, and energy usage while riding as seen in specific data analysis on Golden Cheetah (a program we use for uploading our training files and sending them to Housh). As someone who loves to look through data after my workouts, but doesn't always know what to look for or what I am looking at, this was really informative and useful. Setting goals for the 2020 season also acted as a way of re-focusing on why we are doing all this work.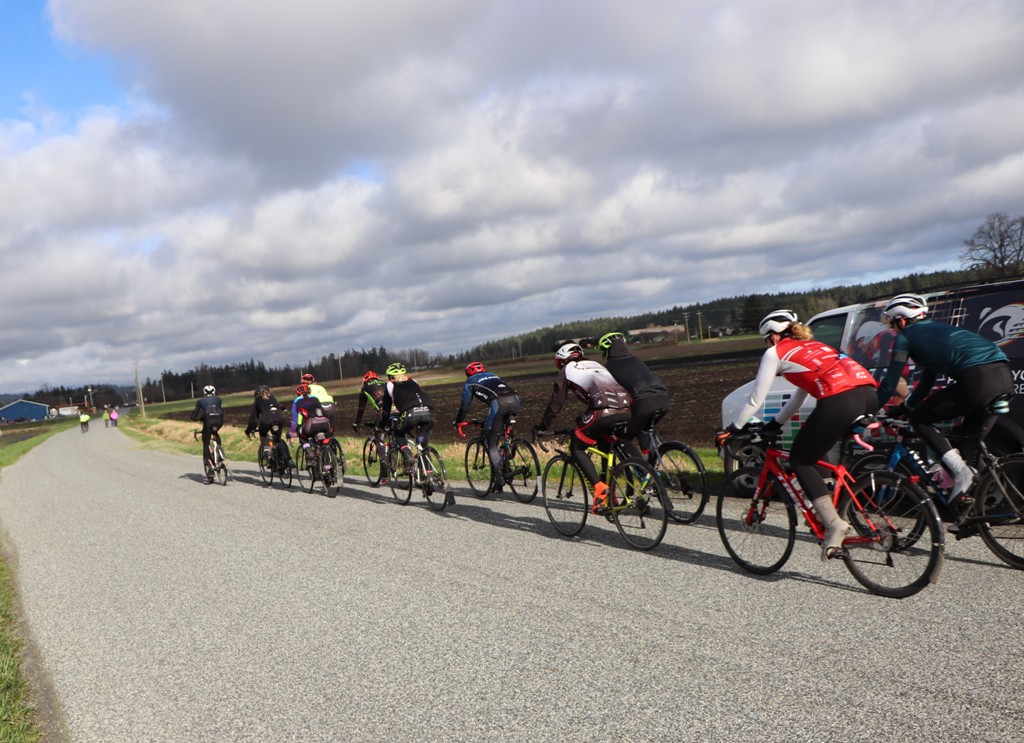 Day three of the camp was likely the hardest day for most of us, and was also my favourite ride of the camp. For those who had not had the pleasure of doing the Willis Point TT on day one (if they had to miss the ride due to school or other reasons), that was first on the menu. Next was the longer Lands End TT test, which we did after a bit of recovery while riding there through Central Saanich. With a slightly new course compared to previous camps, the testing ended up being about 30 mins in duration (for me), which is longer than the usual power tests we do and so acted as a good opportunity to see where our numbers are at for this length of TT. I dug really deep on this effort, having extra motivation when a few others passed me about half-way through and I became determined to re-pass and maintain my steady power until the end. I ended up getting a new PB for my 30 min peak power, which was an exciting take away from the day! The wind having picked up, the remainder of the ride was very blustery. The effort did decrease from our hard time trialling, but the ride took us to all corners of the peninsula and ended up being the longest of the camp. For me it was over 5hrs and 140km, which was my longest ride since last winter. I was surprised to still feel okay on the bike at the end of 5hrs, as often the 'bonk' would have fully set in for me on a ride of that length. On a ride like this one, with high intensity portions and lots of endurance it is so important to eat and drink properly. Houshang always reminds us of this, and offers us all food and water when we stop. The Nature's Bakery Fig Bars were a crowd favourite throughout the camp.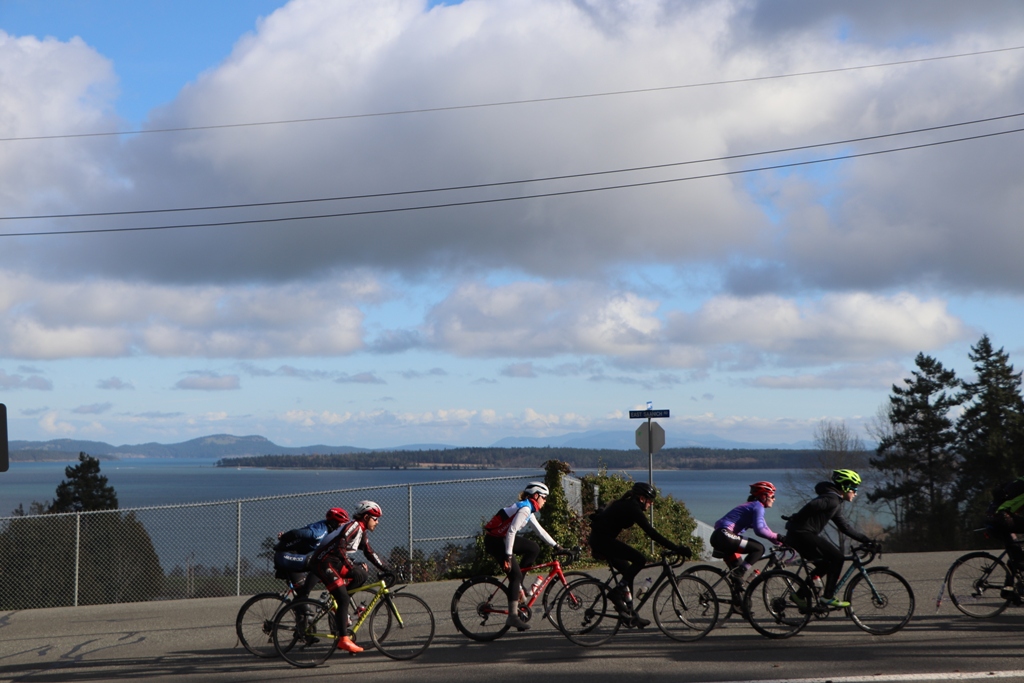 The final day was dry and sunny, if a little cooler in temperature. This ride's focus was on hill repeats in Dean Park, which features an increasingly steep grade on two sides of a box, and then a short descent for recovery. The instruction from Houshang was to ride between 4 and 5 w/kg until the really steep part and then just make it to the top. Most people crushed this workout, completing anywhere from 5 to 7 laps of the circuit at this hard effort. Unfortunately I was dealing with a sore glute and hip and had to tone things back a bit, but I still got a few reps in. The group then headed towards town again, with a slight detour along Prospect Lake Road and along the Galloping Goose trail to take us to the waterfront, where we ended the day with another fast rip along one of Victoria's most popular cycling routes. The day came to a close along with the camp, and I think mostly everyone was still sporting a smile. My personal camp stats amounted to 19hrs of riding, 500km ridden, and 5000m climbed over the course of four days. This is definitely the most training I have ever done in that short a time period; luckily the quality of the riding, the company of the other athletes, and the support from Houshang were all amazing throughout, making this big winter training week super enjoyable. Thank you to Pacific Cycling Centre, Houshang, and everyone who supports us athletes in our performance pursuits!
https://pacificcyclingcentre.ca/wp-content/uploads/2020/02/IMG_1131.jpg
683
1024
Louise Hodgson-Jones
https://pacificcyclingcentre.ca/wp-content/uploads/2019/12/logo-color-300x62.png
Louise Hodgson-Jones
2020-02-07 14:20:17
2020-02-07 14:22:22
January Camp Report by Holly Simonson