PCC Athletes Medal At WCSG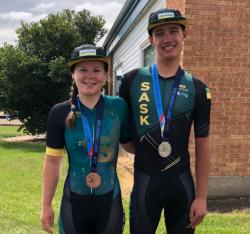 PCC coached athletes Micaiah Besler and Caleb Bender competed in the Western Canada Summer Games in Swift Current, Saskatchewan from August 9 – 18 and came away with some notable podium performances.
With six provinces and territories participating including Nunavut, Yukon, Northwest Territories, Manitoba, Alberta and Saskatchewan, there was stiff competition in the cycling races which consisted of a time trial, road race and a mountain bike race.
With both Micaiah and Caleb coming from Saskatchewan they wanted to do well and they didn't disappoint. Micaiah placed third in the TT and Caleb second. "I had an amazing TT, with good legs and an even better mindset. I started out way harder than I intended but was able to maintain that power and speed throughout and pushed myself further than I ever had in a TT to get a silver," Caleb said.
Caleb then took another silver in the road race. Micaiah had a great road race also placing second, but it had its frustrating moments she recalls. "The race ended up being quite slow preventing any sort of reasonable pace from being set, but there were however, plenty of attacks throughout the whole 80km. I was quite often in a small group of riders off the front trying to break away. Eventually at about 15km to go there were a series of attacks one after each other that kept the pace quite high which led to the field being spread out. I was in the group of riders behind the winner of the race and I managed to win the bunch sprint from the front to take second place."
The cross-country mountain bike race the next day was rained out but a short course was set up by the officials as a substitute. "The race was short and hard, but this being my first time ever mountain biking and feeling under the weather, I was very pleased to stay up right the whole time and to come 11th," said Micaiah. Caleb had a fun experience in the MTB race: "Despite being way out of my wheelhouse on a mountain bike, I had a large enough buffer from the road events to hold onto a silver medal in the GC," he said.
Both riders enjoyed the experience and competition in the games. "I enjoyed being able to represent Saskatchewan and I was proud to be able to earn the province some medals. Overall, I had a blast at the games and enjoyed being able to meet new people. I am happy to be a part of one of the most successful Saskatchewan cycling teams ever to participate in any Western Canada Summer Games. Of course, none of this would have been possible without my amazing coach Houshang Amiri and the continued support of the Pacific Cycling Center as well as my parents," Micaiah said.
"It was awesome to represent Saskatchewan well at the event and have some good results to show for it. The games were a great opportunity to test my skills against the best up and coming riders from other provinces, a good learning experience, and a really good motivator for me heading into my upcoming training and races. A huge thanks goes out to Houshang Amiri and Pacific Cycling Centre for the coaching and support. Houshang's coaching has and will continue to be a huge part of my development as an athlete and a person, and the support of PCC has been vital to my performance and huge improvement this season," added Caleb.
"We were happy to see Micaiah and Caleb performing well at the WCSG and representing their province," said Coach Houshang Amiri. "Both relocated to Victoria in 2018 to optimize their training with us at the Pacific Cycling Centre."
https://pacificcyclingcentre.ca/wp-content/uploads/2019/12/img1.L-18.jpg
234
250
Louise Hodgson-Jones
https://pacificcyclingcentre.ca/wp-content/uploads/2019/12/logo-color-300x62.png
Louise Hodgson-Jones
2019-08-20 09:09:56
2019-12-30 14:22:25
PCC Athletes Medal At WCSG