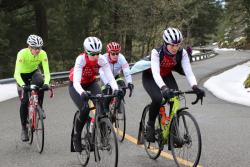 Pacific Cycling Centre held their annual February road camp from February 20-24 in Greater Victoria.  The five-day camp took place during university reading break allowing most PCC-trained athletes to take part. The camp provided on excellent training environment and mentorship opportunities for PCC younger riders.
Day one of the camp was allocated for testing and evaluation, followed by four days of training with specific targets in mind for each day and each ride. The daily rides of five-six hours were spent on some iconic Greater Victoria roads, including Lands End, Willis Point, the Observatory hill and the scenic waterfront.
The Camp included an in-class information session with a review of some of the latest research and talked about the fundamentals of endurance training, adaptation and monitoring. Each rider's power tap files were analyzed and reviewed in a group setting with PCC head coach, Houshang Amiri providing feedback.
"This was an inclusive camp for PCC coached riders and I was happy to see how each rider rode during this camp," said Amiri. "I was monitoring each rider's physical response to the endurance rides and we also spent time on nutrition instruction on and off the bike. This was a good boost and loading week for the group of young athletes going to Redlands next month with their teams. This was a successful camp and we accomplished the camp objectives."
For Brenna Pauly this was her first PCC camp. "I knew the camp would be a great opportunity to get in some quality kilometers for the upcoming race season, but it went beyond my expectations and offered an excellent training environment that pushed me to achieve my largest mileage in four days to date. Despite adverse weather conditions the group cheerily assembled every morning to hit some big miles with some intensity in the form of TT's and hill climbs. From my perspective the group clicked really well, which allowed us all to get the most out of every ride. Personally, I found that was able to optimize my recovery each night by rolling, stretching and preparing homemade bars for the rides. This allowed me to consistently be able to sustain the big mileage throughout the weekend. Thanks again to Houshang for assembling such a great group and always being so supportive on these rides. I'm looking forward now to starting the race season!"
Coming off a very successful Western Track Challenge in January, Amiel Flett-Brown saw the camp as valuable preparation for the upcoming season. "The camp provided valuable insights into the progress we made over the winter and what the road ahead will look like. For me the most important part of PCC's pre-season camp was getting a chance to work through my zones on every ride and get in some hard yards in before the season gets underway. After a long season of base miles and strength training it's good to run through the paces and test out some hard efforts up the local climbs in Victoria. Head coach Houshang Amiri provided valuable insights into training data, periodized nutrition planning, annual race program plotting and a chance to brush up on some tactics and race awareness. With the camp in the books I am feeling prepared for what is ahead and ready for the first races of the upcoming season."
Parker Swanstrom was happy to get out on the road after some enforced training indoors. "These camps also help keep me motivated on the trainer because I know that even though at the moment, I may be in my garage doing efforts and not having the most fun, I can look forward to the camps like these where I can get outside and ride with like-minded people and have fun. The support from Houshang and the group helped keep me motivated and wanting to do more. Every one of these camps that I attend I always learn valuable skills and lessons. From everything from gearing to nutrition I feel I have gotten both stronger and smarter as a rider during these camps."
Camp Nutrition was provided by Infinit Nutrition Canada.
https://pacificcyclingcentre.ca/wp-content/uploads/2019/12/img1.L-4.jpg
167
250
Louise Hodgson-Jones
https://pacificcyclingcentre.ca/wp-content/uploads/2019/12/logo-color-300x62.png
Louise Hodgson-Jones
2019-02-27 08:58:37
2019-12-30 14:22:39
PCC Feb Camp A Success