PCC holds first group ride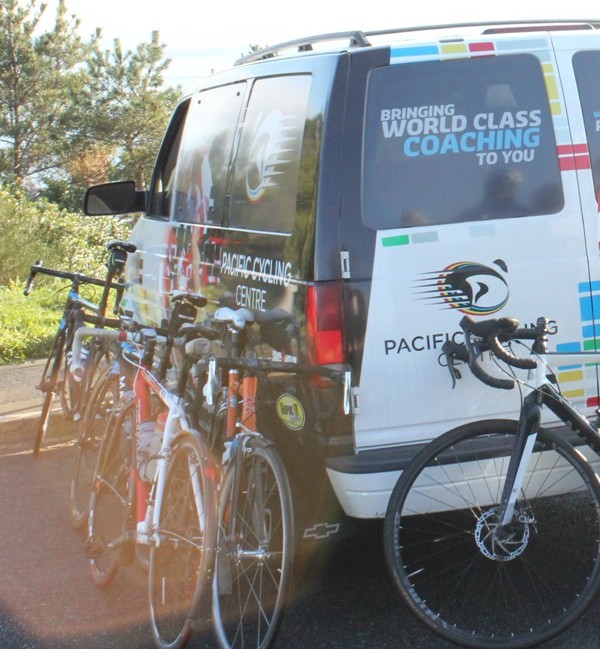 With a new season comes the return of the Saturday group rides for PCC athletes.  Riders, under the guidance of the Pacific Cycling Centre head coach, meet and ride for four-six hours around Victoria. The first ride was on Saturday, November 6. Here is Alex Amiri's account of the day.
This year rides are a little bit different with reduced numbers of riders because of the pandemic restrictions. Rather than meeting inside the PISE offices at the Commonwealth Pool in Saanich, we convened just outside. Before starting the workout, head coach Houshang Amiri addressed the riders and talked them through COVID-19 guidelines and the safety measures that must be followed during the ride. We then did a series of pre-ride activation techniques.
The biggest cog in a cyclist's engine is learning how to breathe properly so we began with breathing exercises, focusing on activating the diaphragm. The focus on breathing also brings into play the off-bike work that needs to be kept up with, such as a solid foundation for your core muscles and core stability, as well as upper body and shoulder mobility. All this factors into more efficiency on the bike.
Following this the riders proceeded to take part in a dynamic warmup, consisting of leg swings in all directions. What this does is help bring a conscious mind to the legs, allowing riders to better focus on pedaling dynamics. Leg swings help in other ways as well, by opening the hips and activating the core it helps the riders to feel more relaxed on the bike.
The objective of the ride was base endurance while practising our breathing technique. The four-hour ride took in the peninsula with rolling hills.
For more information on these riding techniques be sure to check out our training tips page regularly, where we will begin uploading tips and tricks learned by head coach Houshang Amiri.
https://pacificcyclingcentre.ca/wp-content/uploads/2020/11/PCC-van-Copy.jpg
649
600
Louise Hodgson-Jones
https://pacificcyclingcentre.ca/wp-content/uploads/2019/12/logo-color-300x62.png
Louise Hodgson-Jones
2020-11-09 15:08:53
2020-11-09 15:08:53
PCC holds first group ride