Podium Performances For PCC Athletes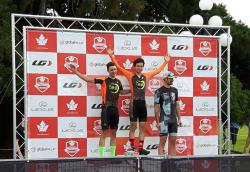 PCC riders achieved podium performances in the Russ Hays Grand Prix on Sunday, the final day of the Robert W. Cameron Law Cycling Series.
In Cat 3 Aeden Crocker (17) and Caleb Bender (18) finished first and second with Colin Fowlow in fourth. It was an exciting race with the TaG team mates, Aeden and Caleb supporting themselves but it became a four-person race with Kevin Park and Colin also in contention. The four maintained a three-quarter of a one-kilometre lap lead until one lap to go with Aeden taking the lead at the finish line. Caleb and Aeden were also on the podium in Friday's time trial.
In other results in U17 Boys Parker Swanstrom (16) finished third, in cat 4 Dave Jackson finished fourth.
Chris Macleod rode in the Cat 1-2, and although missed the podium he assisted his Trek Red Truck Racing teammate Riley Pickrell to first place.
In the women's cat 1-2 Holly Simonson, Micaiah Besler and Brenna Pauly all competed. The winner Sarah Van Dam attributed her victory to Trek Red Truck team mates Holly and Brenna.
It's going to be a busy summer for Holly as she heads to the junior nationals in Quebec in two weeks, then off to the world track juniors in Germany and then back home for B.C. Super Week.
https://pacificcyclingcentre.ca/wp-content/uploads/2019/12/img1.L-13.jpg
172
250
Louise Hodgson-Jones
https://pacificcyclingcentre.ca/wp-content/uploads/2019/12/logo-color-300x62.png
Louise Hodgson-Jones
2019-06-10 09:06:18
2019-12-30 14:22:26
Podium Performances For PCC Athletes