Tom Perkins reaches goals despite challenges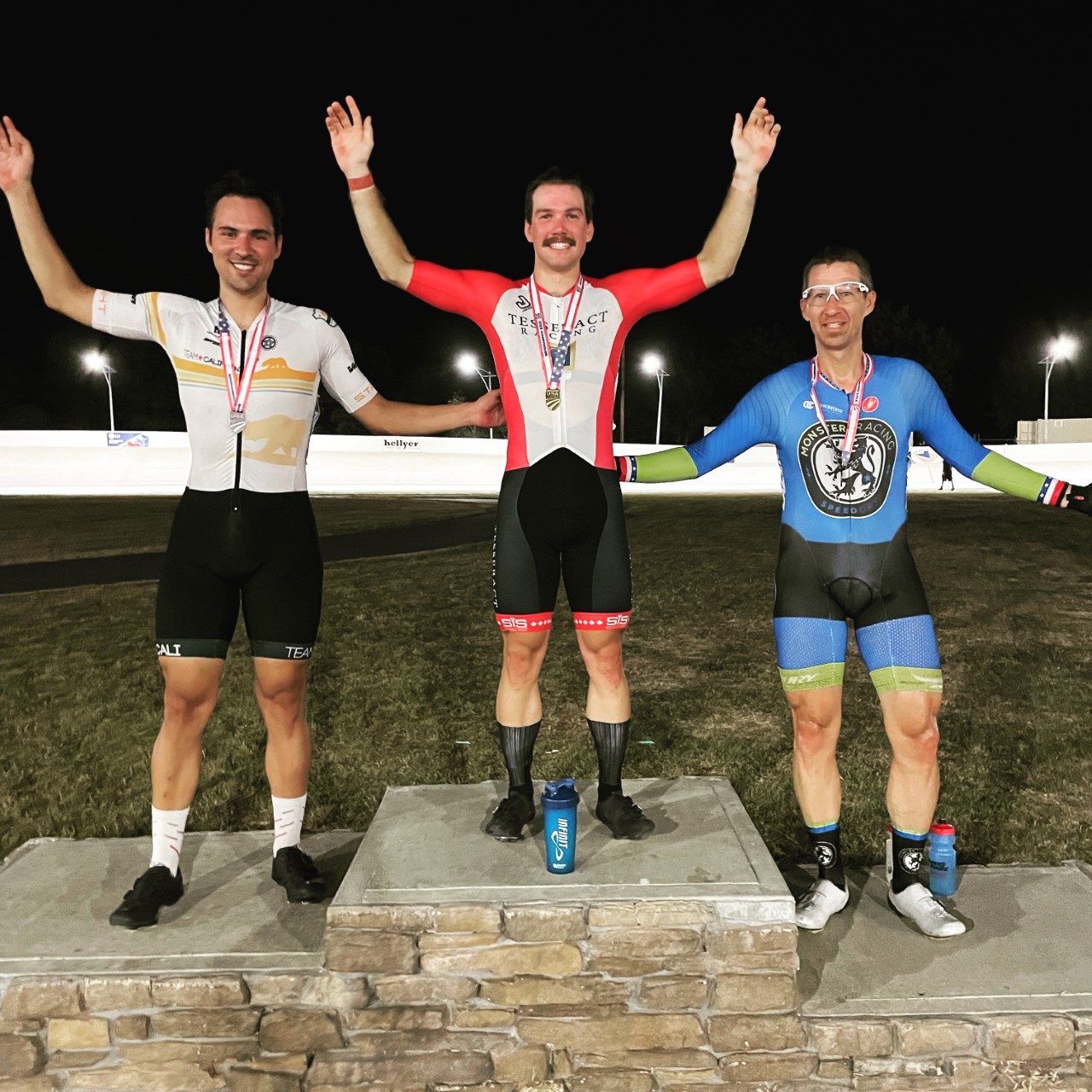 PCC coached athlete, Tom Perkins from San Francisco explains how he had to change his goals in light of the pandemic while still maintaining his training and racing schedule.
Starting the 2021 season was a very slow process. After a year with no racing due to COVID-19, there was not a lot of confirmation as to how much racing would be available for the year. Once events were confirmed, goals had to be adapted. The mid-season goal was to be contesting top 10 positions in road and track events. This meant not only building and maintaining my endurance but also my ability to sprint. As the season moved forward, goals changed again from winning omniums to preparing for Canadian Nationals in January 2022. There is still time to prepare for the nationals and my goal is still to be in the top 10 at events.
At the onset I had a lot of anxiety not knowing how I would handle race situations. At the first road race of the year (Copperopolis) I started feeling very nervous, and during the longer climb I was distanced off the back. I chased on through the flat sector but could not close the gap once the second climb began. It was not a good start to the year, but there was a lot that I could learn from it. Coming into the track season in the middle of June, I was unsure how the first racing would go. At the end of the first night, I was back at Wednesday Night Racing and finished third in the omnium. This provided a massive boost of confidence heading into the following races.
My goals coming into this season were to win an omnium or two at Hellyer, podium for State Championships, build my endurance more and prep for Canadian Track Nationals. So far this year I have won multiple omniums at Hellyer, I have taken second in the Scratch Race for State Championships, and won the Points Race at State Championships. I have met many goals this year but still have races to come and a training block to prepare for nationals.
While training and racing have been going well this year, it hasn't been without issues. The past year and half there have been injuries, smoke from nearby fires, and the ongoing pandemic. I have been lucky that most injuries were minor and/or allowed me to keep training, but they still take a toll. Smoke from fires across California made it hard to ride outdoors, and in some cases would cause my rides to either be indoors or canceled.
I still have some racing left in this year, which means my season report will be updated with results as time goes on. So far, I sit second in the overall series at Hellyer for Wednesday Night Racing, have had a top 10 and a top 5 at Road Races. My next upcoming races are the Madison State Championships are on September 15th, and Criterium State Championships are on the 26th.
https://pacificcyclingcentre.ca/wp-content/uploads/2021/09/Districts-Points-Race-Podium.jpg
1280
1280
Louise Hodgson-Jones
https://pacificcyclingcentre.ca/wp-content/uploads/2019/12/logo-color-300x62.png
Louise Hodgson-Jones
2021-09-15 14:58:21
2021-09-15 14:58:21
Tom Perkins reaches goals despite challenges