TransRockies Gravel Royale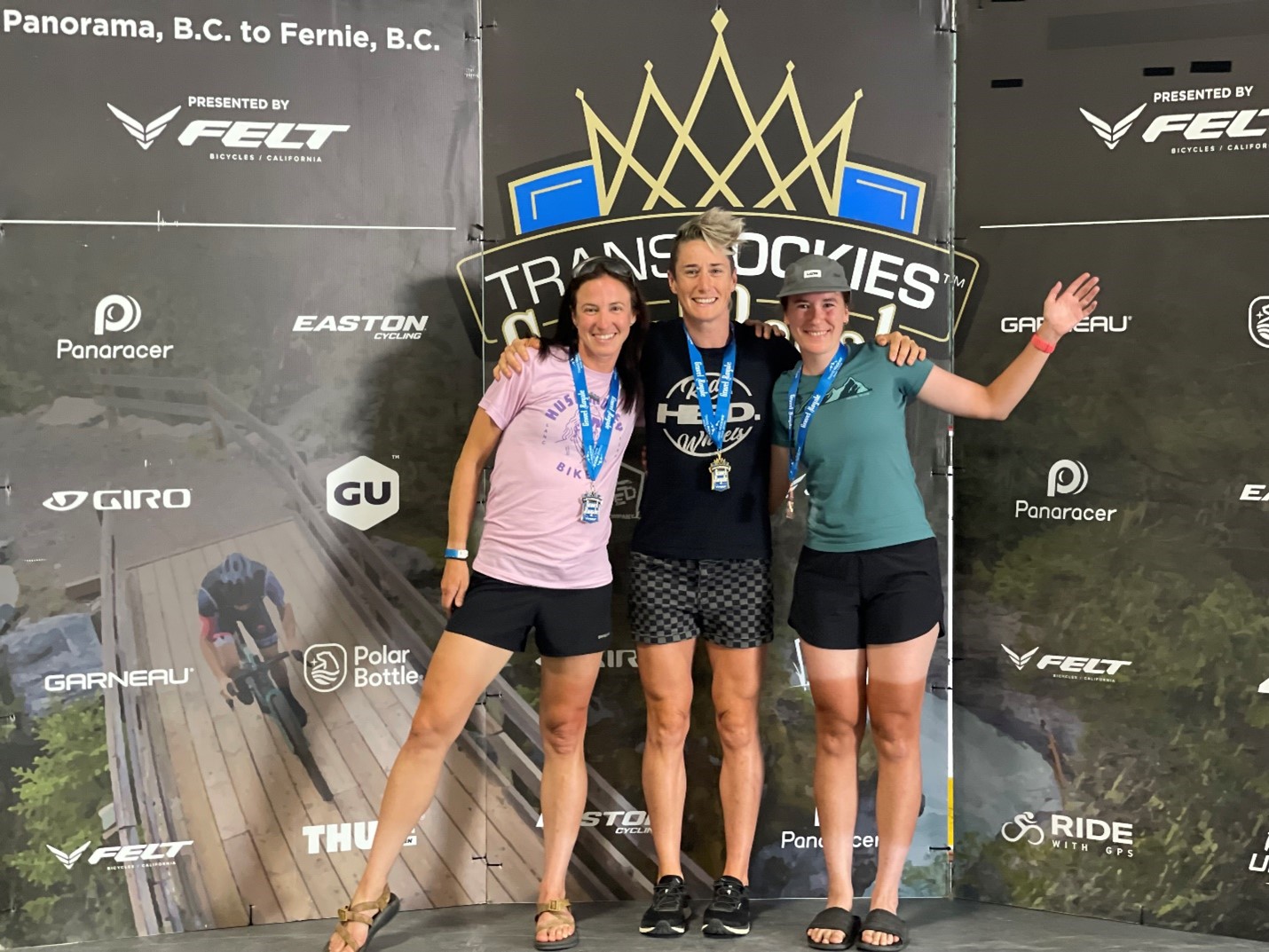 PCC Athlete Brenna Pauly recently rode in the TransRockies Gravel Royale. Here is her race report.
With road season coming to an end in July, it made sense for me to put some gravel events on my calendar for the end of the summer. I had a feeling that I would enjoy the atmosphere and style of gravel racing, but little did I know how much fun and suffering could be had at the same time!
While I have done many long gravel rides and even more road stage racing, putting the two together and entering a gravel stage race seemed like an exciting new challenge. It also suited my strengths on the bike. So that is how I came to find myself at the start line of the TransRockies Gravel Royale, a brand new four-day stage race, covering 400 km and 8000 m of elevation gain from Panorama to Fernie, B.C.
Stage 1, although short in distance, made up for it in climbing. After a long decent from Panorama I got into a good group on the first long climb of the day. The "climb" quickly turned into a rocky double track that eventually became very difficult to ride. To the point that everyone was off their bikes and hiking. The hiking continued into some even steeper single track. Once we made it over the top though, the views more than made up for the grueling climb. We were rewarded with a spectacular vista and a long winding gravel decent. At this point things were pretty split up and I ended up rolling the last 20 km solo to end the day in fourth.
Stage 2 continued with a big climb early on. This time luckily there was no hiking and I set a good pace, catching a group a head of me. Over the top and it was a technical 4 km downhill single-track section. It was super-fast with some creek crossings, but I kept it rubber side down. Coming out of the single-track we were ejected onto buttery smooth dirt and it was 30 km home on wide open roads. Again, I found myself solo and rode in for fourth.
Stage 3, after finishing two days solo, my goal for the day was to get in a good group early on. Again, the climb got extremely steep at the end and we had to navigate some fresh sludge that washed out the route the night before. Off the decent though I found a few others and we worked well together to catch groups of two in front of us. We settled into a good rhythm and picked up the pace after the second check point, dropping the one other girl that was with us. One of the cool things of gravel racing is being able to work with a wide range of people in the race all with a common goal. The last 20 km was very fast and we caught the group ahead of us. It was an awesome day out on the bike and I rolled across the line in third place.
Stage 4, the final queen stage, 130 km and 2100 m of climbing was hands down one of the top five hardest bike races I have ever done. The course was unrelenting with big climbs and technical descents. My goal was to build on my performance from yesterday. I quickly found myself in a solid group and away we went. I was ahead of some of the other girls for a while, but they rode back up to my group with a few others. The middle climb of the day put me close to my limits, and I lost the group I was with on the decent, when I bobbled in a creek crossing. I took the opportunity to eat and drink and top up my fuel stores for the last climb of the day. I rode solo until two guys I had been riding with off and on all week, caught me and I hopped in with them. The last climb I found my groove, but I was close to my limits as I missed seeing a water trough on a little descent and went straight into it. I twisted my handlebars which took me a few minutes to untwist. Once I did though, I hopped on my bike and finished the last couple kilometres of the race. Again, rolling across the line in fourth.
https://pacificcyclingcentre.ca/wp-content/uploads/2022/09/TransRockies.jpg
1073
1430
Louise Hodgson-Jones
https://pacificcyclingcentre.ca/wp-content/uploads/2019/12/logo-color-300x62.png
Louise Hodgson-Jones
2022-09-12 19:20:48
2022-09-12 19:20:48
TransRockies Gravel Royale