Tucson Training Report from Caleb Bender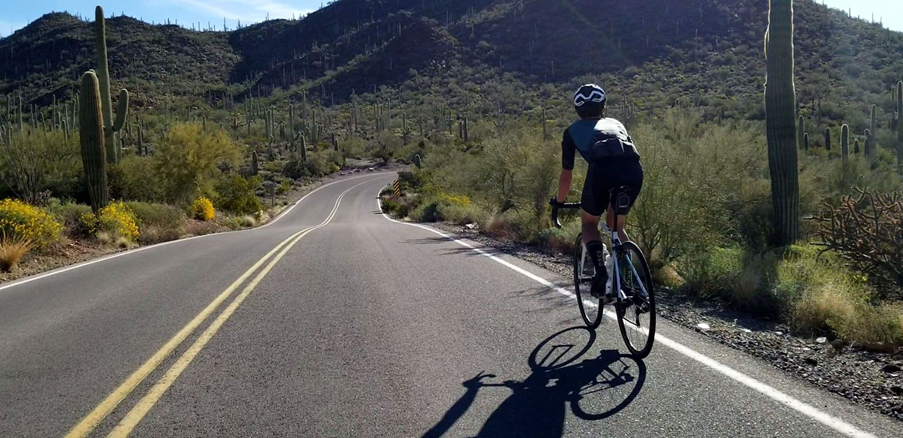 PCC's Caleb Bender was training in Tucson last month. Here is his report and an update since he returned to Canada.
Reporting post ride, shower, and recovery meal, at the time of writing (before current events created the necessity to stop group rides) I'm getting mentally prepared for a massive day in the saddle as part of my pre-season race preparation in Tucson, Arizona. Tomorrow, I'm taking part in the "Shootout" group ride, a drop ride that leaves downtown Tucson and turns any long, quiet, and stop-less road into a full gas effort as intense as some races, if not more so. My group leaves at 7:00 am and splits into two options; a 60km ride for short intensity, and my challenge, a roughly 160 km ride turning around at the top of Madera Canyon – a gradually increasing gradient climb, 20 km long and 750 m of climbing, with finishing grades well above 10% in the final kilometers. And yup, the last 7 km are flat out to the top. North American Conti and Pro-Conti riders regularly attend to fire some shots off the front and take advantage of the perfect desert weather this time of year. With my commute to downtown, I'm looking at 230 km and over 1500 m of climbing. I'm anticipating a mid-afternoon nap in my near future.
This will be my third time taking on the full shootout ride in the five weeks I've been down, and my fourth ride over 200 km in that span of time as well. I arrived down south on February 6th, and for those who know of the tendency for Saskatchewan winters to follow me, I didn't even bring a blizzard to the desert! (this time… yes it snowed last time I was here). To get prepared for my first season of U23 and Cat 1-2 racing some huge miles are needed. Thankfully, Tucson is the perfect place to get in those miles, complete with rolling hills, false flats, and Mount Lemmon; a cyclists' dream of a climb taking the best in the world over 1.25 hours to get up, and the opportunity to replenish all the carbs you've lost in the past week with a fresh baked cookie larger than your face at the top.
A couple days after Pacific Cycling Centre's February training camp, which provided me with a solid five-day training block with a great group of people to get the legs back into race form, I flew off to Tucson. My first three weeks down south were part of a team training and race prep camp with TaG Cycling Race Team, which included Valley of the Sun Stage Race in Phoenix Arizona. Although my Cat 1 race debut was a bit rocky, the team did a superb job working together and throughout the camp we had the opportunity to develop a needed sense of comradery between us, and to motivate each other to push ourselves to the limits during our rides. Between Shootouts, leadout drills, TTT's, and Lemmon rides (one of which may or may not have included a caffeine gel at 7:00 pm to get through a post ride shower and meal) we got the teamwork going that we needed in order to prepare us for our time racing together for the rest of the season!
The last couple of weeks after team camp have been a full block of training. After a few days to get well recovered, Houshang gave me a schedule filled with race specific hill intervals to push my limits and get ready for the efforts I need to prepare for in competition, as well as long 5-6 hour endurance rides to keep the baseline fitness high and get me prepared for the longer days in the saddle that U23 and elite racing brings. He also threw in a few shootout rides to work on pack skills, tactics, and the top end power. Mixed with adequate R&R amid my online courses, the past weeks of training have brought huge personal improvement, allowing me to routinely smash personal bests, and putting me in some of my best form to date. Houshang's personalized training plan has allowed for me to develop my strengths and work on my weaknesses so that I am prepared as best as possible for the season ahead.
That being said, I'm looking forward to the remainder of my time in the sun! I've got a few more big days, and another run up to the top of Lemmon in my time down here, and I'm looking forward to replenishing a month's worth of carbs with a cookie at the top! After that, it's a couple weeks back to Saskatchewan for some recovery, and I guess we will see where the season ends up going! That being said, I've got to get my equipment ready and some rest before a big day tomorrow. 4:30 am wakeup call! (I'm going to need a lot of coffee!)
PS – To provide an update on the time between writing and editing this, after a stressful few days trying to get back into Canada, I'm back at my home in Saskatchewan in self isolation until 14 days have passed and I'm cleared to be back outside. Although the circumstances aren't great I'm glad to be home with my family, and have been keeping motivated to train, using my spare time to work on the different areas that make a complete athlete such as mental training, core stability work, and stretching. I'm taking a couple weeks fairly easy to relax and keep the immune system going strong, and then transitioning to more intervals with some Zwift racing to keep the motivation high. I'm looking forward to taking this time to enjoy the ride and better myself. I'm also really looking forward to the new PCC Zwift group rides on Wednesdays and Fridays at 10:00 am to keep the riding going! There's been lots to adapt to, but I'm glad to have a coach that is quick to adapt, and that I know I can trust to adjust my plan so I'm in the best place I can be whenever racing can resume in a safe manner!
https://pacificcyclingcentre.ca/wp-content/uploads/2020/03/Caleb-Tucson.png
438
903
Louise Hodgson-Jones
https://pacificcyclingcentre.ca/wp-content/uploads/2019/12/logo-color-300x62.png
Louise Hodgson-Jones
2020-03-25 13:34:46
2020-03-25 19:16:53
Tucson Training Report from Caleb Bender